Baby Laundry Boutique specializes in stylish designer clothing for newborns, infants and
toddlers, unique gifts for mothers and baby, and accessories such as designer diaper bags. They
have designer clothing for boys and girls. You're sure to find something special here at the

Baby Laundry Boutique online baby clothing store.


The baby and toddler clothing designers they carry are: designer baby clothing Amber Hagen,
Avery Rose, Azul swimwear, Baby Cappelli hats, Baby Cie, Baby Dot Com, Baby Gags, Baby Nay, Baby
Om, Barrettes by Wendy, Beary Basics, Blabla, Bonjour Fleurette, Bumble Bags, Burgundy Blue,
Burps Happen, C C California, C C Clothing by Sami, City Threads, Claude, Coastal Projections,
Cotton Caboodle, Cozy Toes, Dogwood, Fanci Free, Fleurville, Flowers by Zoe, Havainas, Hubcap, JM
Originals, Kai Fragrance, Kidcosmic, Kidorable, Kingsley, Lemon, Little Giraffe, Luna Luna
Copenhagen, Lyla Blu, Mad Sky, Me in Mind, Out of Control, Patches n Cream, Pea Soup, Peace
Monkey, Petite Pirouette, Posh Baby, Pretty Please Designs, Queen Bee, Random Nicole,
Reflectionz, Rico Knits, Rowdy Sprout, Sam and Bellie, Sister Sam, Sonik, Sophie and Lili, Space
Baby, Splendid Littles, Sprouties, Sushi Shoes, Tea Collection, Thumbelina Baby, Tiny Bubbles,
Toni Tierney, Trumpette socks, Urban Baba and Urban Smalls.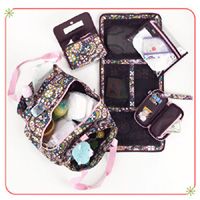 I'm so in love with this Fanci Free Circles in Color Diaper Bag ($92.00) that I'm tempted to buy
it for myself since we'll be having a new addition to our family soon. This diaper bag is a hip
and practical diaper bag for moms on the go. It is made of a light weight and water resistant
nylon material. The new version of this bag has four large pockets with inside zippers. Inside
of bag has a waterproof lining for easy cleaning. There are so many pockets and sections in this
bag that you will never run out of space to put things. It comes with a versatile pad - comfy
changing mat with a pocket for diapers and wipes on one side, storage stowaway with four big
webbed velcro pockets on the other. A cosmetic case with an unbreakable mirror and a cell phone/
wallet organizer that is great to use even without the bag. Dry/wet pouch separate items that
need to be kept apart and a handy carabiner clip holds keys or pacifiers. Comes with pink or
teal handles. Please specify!! Hurry! There are only 3 in stock.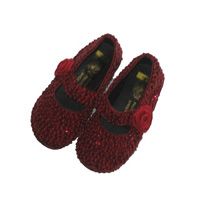 Oh, baby! We all love buying for girls, so why not start on the right track with Coastal Projections Red Sequined Shoes ON SALE for $31.95 (Reg. $40.00). Dress up has never been so fun!
Available in Red, Black or Pink.





For a heartfelt buy of affection, we heart this Out of Control Pink Heart Top and Yorkie Mini
Skirt ON SALE for $66.95 (Reg. $84.00). This is an adorable outfit by Out of Control! Available in
2T, 3T & 4T. Hurry! There are not many left in stock.






FREE Standard Shipping on all orders over $75.00! Automatically deducted at checkout.
All Queen Bee products are on sale until January 15th. A discount of 15% will be applied to the
items.