Dimples and Dandelions is a chic children's boutique featuring designer clothing, diaper bags, baby shower gifts, furniture and home decor from the top
boutique designers.

Featured Designer Brands include Baby
Nay, BebeMonde, Best of Chums, Biscotti, Bratt Decor, Cach Cach, Caden Lane, Cozy Toes,
Fleurville, Greggy Girl, Hartstrings, Tralala, Kitestrings, Lipstick, Lettuce Truck, Little Mass,
Meg Dana, Serena and Lily, Smile for the Birdie, Swankie Blankie, Tickles and Giggles, Timi and
Leslie, My Vintage Baby, and Wonderboy.
You can find fun and unique children's clothes and decor all at Dimples and Dandelions. Their
boutique is funky, whimsical, and just down-right cute! They offer the latest fashion in
children's clothes from newborn to 4T.
FREE Shipping on ALL orders over $50!
Be sure to check out their SALE items!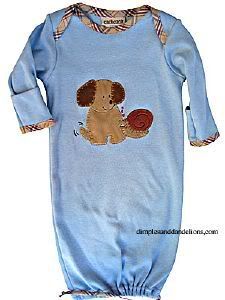 "Snails and Puppy Dog Tails" Newborn Sac, Was $31.00 Now $24


The Snails and Puppy Dog Tails Newborn Sac (Reg. $31.00) ON SALE for $24.00 is the perfect gift for a baby boy! Made by CachCachand has a cute puppy and snail on the front. Plaid trim and has a ribbon that gathers at the bottom.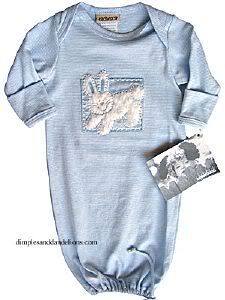 Blue Bunny Sac, Was $27.00 Now $21

This Blue and White Stripe Blue Bunny Sac by CachCachis (Reg. $27.00)
ON SALE for $21.00 is so sweet. The front of the sac has a soft bunny and blue satin applique. The bottom
has a drawstring to keep baby snuggly. Available in 0-3 mo.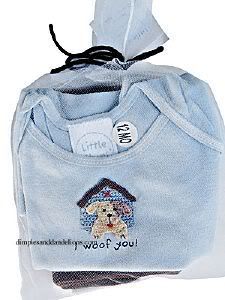 "I Woof You" Gift Set, Was $35.00 Now $30

This I Woof You Gift Set ON SALE for $30.00 (Reg. $35.00) consists of a fun short
sleeve tee with cute appliquÈd and matching bone beanie. Comes with coordinating leggings and
wrapped in a tulle gift pack. Sure to bring a smile! Available in 0-6 months and
6-12 months.




"Diva" Infant Pocket Lap Tee, Was $27.00 Now $21




For all of the little "divas", this Diva Infant Pocket Lap Tee (Reg. $27.00)
ON SALE for $21.00 is such a cool tee-shirt by Lettuce Truck. The lime green tee has a sealed clear
vinyl pocket that is full of little trinkets. The pocket includes a cell phone, compact,
lipstick, high heel, perfume bottle and more. These tees are too cute! They tend to run a little
small. Available in 6 months, 12 months and 18 months.