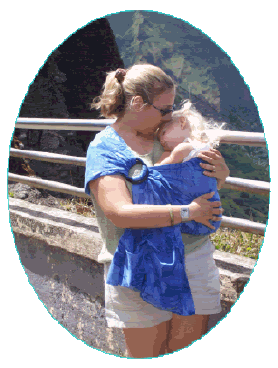 THING-A-MA-SLING is where you'll find custom-made baby slings that can be used from birth until
approximately three years of age (note: please consult your pediatrician prior to using if your
baby was premature), even if your baby is small, can be worn in a variety of ways, are safe for
children up to 35 pounds, gives you two free hands, promotes healthy attachment/bonding,
provides a womb-like environment, can nurse discreetly while cleaning, shopping, tending to other
children, walking around, etc..., can go over clothes or a jacket in inclement weather, reduces
back and arm strain, very compact; will fit in a diaper bag, purse, stroller or suitcase, can
double as a blanket, machine washable and dryable, attached pockets to hold cell phone, keys,
sunglasses, wallet, etc..., safe and secure, very comfortable, ideal for "kangaroo care", easy to
use, requires only one adjustment to secure your child, can be custom-made and personalized, and
are unique because you get to choose exactly what you want because they are completely
customizable! You'll love it!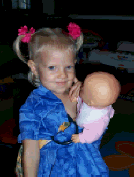 Mini-Thingy: a smaller version of your custom-made sling ($14.95) for your toddler to wear her dolls in.
Just like Mommy! These slings are more basic, as they are just for play, and come without
pockets.




They have Cotton Slings, Batik Slings, Linen Blend Slings, Brocade Slings and Mini-Thingy Slings
for your toddler to wear her or his dolls in.
THING-A-MA-SLING specialize in Hawaiian/Tropical
and Asian print fabrics. All of the slings are made with either nylon or aluminum rings
(depending on what is required for the design), 3 large pockets and either a coconut or mother-of
-pearl button on the center pocket. You can have them personalize with your baby's monogram/
name. You can select to have an embroidered image: hundreds of designs to choose from, including
many Americana, animals, Disney, flowers, Noah's Arc, etc...!