Baby Bella USA was conceived as a labor of love. As a mother of two, Melissa Vilar have enjoyed
making unique items to give as gifts to other mothers and mothers to be. At the encouragement of
friends, Baby Bella USA has grown and they are thrilled to now be able to provide you with their
very favorites! Some made by them, and others that they just couldn't resist. Our goal is to
provide fun and unique items from companies around the globe.

You'll enjoy shopping here for diaper bags and totes, hooter hiders (stylish nursing covers and gear),
clothing for infants and toddlers, toys, Diapee
& Wipees, burp cloths, gift certificates, etc. Check out the clearance! Huge clothing and shoe clearance sale going on now! 30%
to 70% off!
FREE Shipping on all diaper bags with coupon code: diaperbag and 20% off with coupon code:
ffling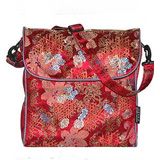 This is a Kecci Shangai Diaper Bag with 2 side pockets, separate compartments inside and a
matching changing pad. This Diaper bag has a optional bagpack straps in an extra zip close
section.




The Puddle Jumper Shoes - As seen in Martha Stewart Living Kids Magazine!!! We LOVE these shoes.
Adorable, well made, European Styling. Available in Slip On Shoes - Hot Pink or
Light Pink, Slip On Polka Dot in Orange, Lime or Red and Maryjanes in Red or Lime.




Just one look at IsaBooties and you'll see how they're different from the
rest! With hip styles in today's hottest colors, IsaBooties are a trendy and fun choice for your
baby's shoes! Unlike the styles of other soft-soled baby shoes, IsaBooties combine bold color
block designs with distinctive European ribbon to create a fresh new look in soft-soled baby
shoes! In addition, IsaBooties use of only the highest quality, non-leather fabrics make them a
superior choice. IsaBooties are crafted from Ultrasuede, a super-soft and breathable fabric that
makes IsaBooties comfy on babies' feet. IsaBooties' soles are made from Toughtek, the same grip
fabric used in the booties worn by search and rescue dogs and in high-end mountaineering gear!
This durable fabric is soft, flexible and non-skid, making it the perfect choice for soft-soled
baby and toddler shoes. All IsaBooties are 100% animal-product free, machine-washable and
machine-dryable, and unlike leather baby shoes, IsaBooties won't fade, shrink or crack.
Available in Rosey Toesies, Butterfly Kisses, Chocolate Dots and Racing Stripes.